Usage of several tied-in devices under one telephone number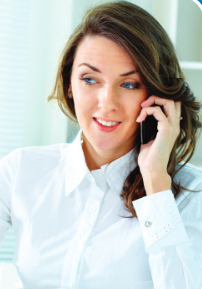 Unrestricted access to work with mobility solutions from MDS Amiba
You are on the road and work in your partner's premises, in a branch office, from home or from a public location.
From mobile site workers via locally deployed field staff to internationally travelling personnel - the mobility solutions from MDS Gateways keep you connected - via one telephone number and one voicemail box.
All main functions of your system telephone are provided on your mobile device (laptop, tablet, smartphone).
Unrivalled mobility
Our convergence solutions allow you, like never before, to engage in business activities without restricting your mobility. The system client option enables the usage of several registered devices under one telephone number. No matter, whether you use your desktop system telephone in the office, a PC-softphone, tablet or any smartphone via the MDS Amiba communication system - you receive every call, over every network or provider.
Work from any site anywhere in the world - in a convergent network.
Turn BYOD to your business advantage
The secure MDS Amiba system clients allow you to use your own and your employees' devices without hesitation. The BYOD-integration (Bring Your Own Device) in our system is your true benefit:

For accessing voicemail, fax sendings and instant messages while not at your workdesk. You will not miss a notification.
Carry out calls, video online meetings or send out chat messages, no matter where you are at the time, via the MDS Amiba user portal.
Protect company-critical information with our secure AES-encryption.
Users with access to company- and customer data, can be added or removed in an uncomplicated manner.
Allow BYOD for all your personnel - you will reduce your TCO with less expenditure on otherwise necessary devices (e.g. desktop telephones, DECT-handsets, etc.) and at the same time increasing your staff's productivity.
Location-independent mobility – mobile system clients
Identical Operafone Executive system telephone user interface for smartphones (Apple iOS & Android)
All functions of a system telephone on your smartphone (e.g. receiving voicemail via eMail forwarding, realtime busy-lamp-field indication of other users)
Cost-free calls to other internal extensions - on-site in a company-WiFi or via mobile network
Availability and outgoing telephone calls under one telephone number - your contact partners will only know the extension number of your office (one-number-concept)
Switch all out-of-office calls over VoIP or mobile network respectively via WiFi in the local network – Fixed Mobile Service (FMS)
Stable call connections through automatic switching between mobile networks and VoIP/WiFi, pending on the voice quality.
Secure voice- & data communication through AES-encryption (Advanced Encryption Standard – cryptographic algorithm for his used by state-institutions i.e. police, secret services).
Premise-based mobility – DECT & laptop / tablets
DECT

All important MDS Amiba system functions via Gigaset DECT-handsets when deploying a Gigaset N720 DECT Manager
Up to 20 DECT N720-base stations deployable for one covering network
Up to 100 DECT-handsts registrable
Up to 30 simultaneous calls
All main system functions available over Gigaset DECT handsets (e.g. company directory, MWI for single users & hunt groups with actualisation when first checked by a user, listen to received voicemail, notification of received eMail with reference row, paging, intercom, etc.)

Laptop / tablets

Browser-based user portal with Click-to-Call-functions and presence-/call information
Windows PC-system telephone with identical user interface to desktop system telephone Operafone Executive.
Collaborative communications made easy – by MDS Amiba.